Yoga Alliance Professionals
Sue Bailey is a registered teacher with Yoga Alliance Professionals. This accreditation demonstrates excellent standards as set by Yoga Alliance Professionals.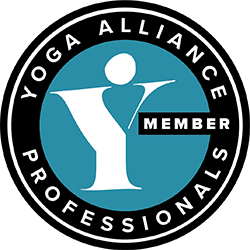 Chakra Aerial Yoga
This technique has been developed & designed by professional yoga teacher Devi Kaur and inspired by Aerialist Cathy Gaugh of Aircat Aerial Arts and Anodea Judith of Sacred Centres and author of Wheels of Life.

www.anandakanda.org/aerial-yoga/
OmYoga
Om YogaPages is a valuable and useful resource for yoga teachers and students.

The Yoga Academy
The Yoga Academy offers Yoga Teacher Training Courses, Workshops and Advanced Study Courses with UK and International Teachers. Courses are for teachers, trainee teachers, students wishing to become teachers, or for those who wish to significantly deepen their knowledge, practice or teaching of Hatha and Classical Yoga, meditation and other specified forms of yoga

Mandala Yoga Ashram
Mandala Yoga Ashram is an internationally renowned centre of yogic knowledge. It is dedicated to presenting yogic science, including meditation, to those who are seriously looking to awaken joy and develop harmony and depth in their life. Mandala Yoga Ashram is an independent institution which is not affiliated to any religious beliefs or sects; it is only concerned with awakening the intelligence and potential which exists innate in each human being. It is one of the few authentic ashrams outside of India.

Pilates.co.uk
Pilates information including a directory with details of studios and instructors in the UK. Handy for finding a studio near your if you are on holiday!